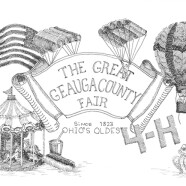 The Great Geauga County Fair is the oldest county fair in Ohio, annually opening its gates since 1823. This great fair also claims the accolade one of the nation's oldest agricultural fairs. Janet Jacques dedicated a series of 6 drawings to her county fair.
Janet proudly shared her history with the Geauga Fair: "I've gone to the fair every year, for 55 years — 56 if you count the year I was in my mom's tummy." As a child, she submitted her domestic arts and fine arts at the fair, winning multiple ribbons through the years. She is now on auxiliary staff and manages the fine art submissions.
For more information on the Great Geauga County Fair, visit their website at GeaugaFair.com. Prints of this series are for sale at the Geauga County Fair, August 29 – September 2, 2013.
View the entire collection below.